When starting an SEO campaign, you need to get a baseline for your local niche. This will help you understand and determine how much work will be required to start ranking your website. The goal is to get your website to that #1 spot!
In this post, we are going to look at the local dentist niche and analyze the search engine results. I also want to explain some different SEO tools and how to use their site metrics when doing SEO research.
As we start doing SEO audits for other local industries, I will be referring back to this series of posts.
If you want me to cover a particular local business category, reach out and send me a message.
As you move through this post, you are going to learn how I research and analyze a local business niche. These are the steps I take when working with a new client and starting an SEO campaign.
This series of posts will cover:
the local online competition
the on-site optimization baseline
These guides can be used for brand new sites or existing business websites.
Use the knowledge to move your site up the rankings.
SEO in the Dallas – Fort Worth Metroplex
I am located in Fort Worth, Texas. For those that are unfamiliar with the area, it is the largest metropolitan area in the state of Texas.
Don't jump ship if you aren't in the same location. All material covered can be used in your location. On top of that, it might even be easier to dominate the local SERPs in your area!
A little knowledge share first…
Because of the size and number of cities in the DFW metroplex, many local businesses need/want to rank for several "service + city" keywords.
For example, a local service-area business like a plumber would want to rank for the following:
plumber dallas
plumber fort worth
plumber arlington
etc.
This, of course, depends on the size of the business and how big of an area they want to cover.
On the other hand, a local business that has one brick and mortar location might only want to rank for one city.
For example, a dentist that currently has one office location.
In most cases, it doesn't make sense for a dentist in Fort Worth to target people in Dallas. These two cities are about an hour apart.
It isn't very likely that a potential customer would drive an hour to a dentist UNLESS it is some specialty service, some crazy offer, or they really like the dentist.
With that said, you shouldn't pigeonhole your website based on location either!
Always think about the future. Just because the business currently has one location doesn't mean it won't grow to several more locations!
This is why you are doing SEO for the website right!? To grow and acquire more customers.
What I am getting at is you shouldn't optimize every page on the site for your one location. If the business decides to open a new location in the future, depending on how the website is structured, this could be a big pain in the rear.
Google is smart.
They know where your business is located based on your Google My Business(GMB) page. Your GMB page mixed with your on-site (content, schema markup, map embeds) will be plenty to rank locally.
If you are a service-area business that targets several cities, I recommend location pages linking to broad service pages.
Don't worry if this doesn't make sense. We will cover the different strategies.
Local Business SEO
For this example, I am going to research and analyze the Fort Worth Dentist niche.
Google has really started to return results based on proximity these days. Instead of using tools to change my IP address to cover a different city, I think it will just be best if I cover local businesses in my area.
Note: Using the Incognito mode in Chrome still uses your location.
Fort Worth Dentist SEO
Check out the results when I search "dentist fort worth."

If you do the same search, you are likely to get very different results. Again, the proximity of the business based on my location.
For this exercise, we are only interested in the organic results. These are the results from the map down to the bottom of the 1st page: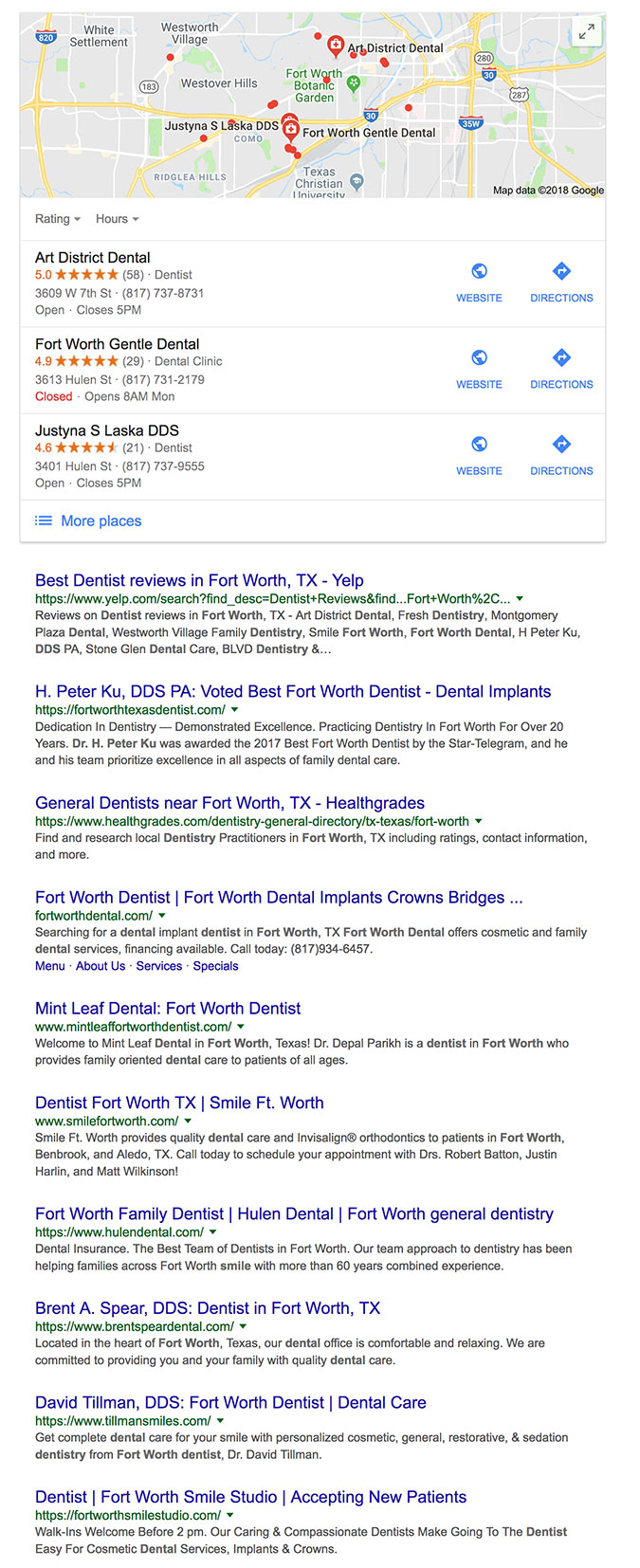 The goal is to dominate the first page of Google for the keywords related to your business.
This means you want to be listed in the paid ad positions, map pack, and organic results. This post is about SEO, so we will cover paid search in a different post. If you are interested, I touched on paid search a bit in Get New Customers to your Local Business Today post.
Google Map Pack Optimization
I keep repeating myself, but the map pack is largely based on proximity. Google wants to display businesses that are close to your location.
This makes sense for UX purposes.
You can still optimize your GMB listing to get listed in the map pack for keywords that relate to your business.
First, if you don't have a GMB listing for your business, create one now.
Fill the listing out completely.
use the business name you use in the real world – don't use keywords or location unless they are in your business name
fill in your complete address and phone number
choose your main category (will pick secondary categories when listing verified)
if you are a service-area business make sure you check the box that says you serve customers at their location
patiently wait for the verification postcard from Google
once you receive the postcard, follow the directions and verify your GMB listing
Once you have verified, start editing your listing. Don't be lazy with your listing.
Fill out your listing with unique content and images. Don't copy and paste the About content from your website.
Anything you can input, do it. Content, images, hours, categories, etc.
Don't keyword stuff with your business services or location. Write naturally.
Once your listing is live, it is time to get citations and reviews. I covered these topics in the How Do I Get My Website to the Top of Google? post. Check it out.
Your GMB listing should be good to go.
Local SEO Tools
Before we dive into the local dentist and plumber organic results, I want to discuss SEO tools briefly.
Numerous SEO tools help analyze, research, and monitor search results.
My personal favorite is ahrefs.com.
These tools all have their way of indexing and reporting data to help SEOs better understand the SERPs.
For example, you can submit a website URL in the ahrefs.com Site Explorer tool and quickly see:
how many backlinks and referring domains the site has
all the anchor text of incoming links
keywords the site ranks for
organic traffic estimations
competitor analysis
top pages on the site
PPC campaigns the site is running
the Ahrefs Rank, UR, and DR of the site
and much more!
With all this data, you can get a pretty good idea how websites rank for certain keywords.
It is amazing and very, very helpful!
SEO Tool Metric Numbers
Each SEO tools has their numbers or metrics that they generate. In my example above, these would be the Ahrefs Rank, UR, and DR.
Other tools like Majestic has metric numbers that include TF, CF, TR, and Moz has PA and DA.
Without understanding, or at least knowing about these metrics, you would be lost as we move forward.
I am not going to go into great detail about each metric. I just want you to understand what they are and why they exist.
Remember when I told you that no one knows exactly the Google algorithm works?
Well, the people behind these SEO tools created their metrics to try and help us understand how and why websites are ranking. Without these metrics, we (SEOs) wouldn't really know how strong/popular a website is without a lot of manual work. We use these tools to compare websites and try to understand rankings.
Let's look at the main Ahrefs metrics:
Ahrefs Rank: The ahref tool ranks all of the websites they crawl and puts them in numerical order based on their backlink profile. So the strongest site in their index would be ranked #1. The lower the number, the stronger the backlink profile. Right now, Facebook.com is sitting in the number #1 position. Go figure…
UR (URL Rating): "Measures the strength of a target URL's backlink profile and the likelihood that the URL will rank high in Google." This metric is on a scale from 1 to 100. The higher the number, usually the better the site ranks in Google.
DR (Domain Rating):  "Shows the strength of a given website's overall backlink profile."
You can read all about these metrics and how they are calculated in this ahrefs blog post.
The other SEO tools calculate and report their metrics as well. Feel free to spend some time getting familiar with these metrics if you are interested.
Now that you know about these different SEO tool metrics keep in mind that in a sense, they are worthless…
It's not like Google is checking their favorite SEO tool metric to determine where a website should rank in the SERPs.
Nope. These metrics are just guessed at best.
With that said, they are a good number to compare and analyzes when building links and doing SEO in general.
Side Note: Some SEO pros disregard all these third-party metrics and strongly consider the amount of traffic as an indicator of a strong backlink. Think about it, if you get a backlink on a website and that link is driving traffic to your website, the domain you got the backlink from is doing something right in terms of traffic. It isn't likely that a brand new website would be able to send you traffic from one backlink. There are exceptions, but you hopefully get the idea.
Let's move on and see how we can use these metrics when looking at local search results.
Local Organic Competiton
Check out the organic results below the map pack.

As I mentioned in the How Do I Get My Website to the Top of Google? post, there are hundreds of factors that go into how the Google algorithm determines the order of sites to be displayed in the SERPs.
Let's take a look at the metrics of the websites for the keywords "dentist fort worth."
For this, I am going to be using a Chrome extension called SerpWorx. This extension syncs with my ahrefs account and other SEO tools and shows the metrics right in the SERPs.
Check it out:

Pretty cool, huh?
Here is a screenshot of just the organic results and metrics:

Review the metrics for each site that are listed for each SEO tool. Look at the numbers I highlighted in yellow on the first result (yelp) for each website.
What do you notice?
Again, I like the ahrefs tool the most, so I normally look at the numbers in the third column (column with the blue hand pointing up).
Overall, the websites with a higher URL rating, Links, and RD (referring domains) are ranked higher.
Interesting!
You see some sites that might seem out of place, but that is where other SEO practices like on-site optimization come into the picture.
It is apparent that the stronger the backlink profile, the higher the ranking.
With this knowledge, it looks like we would need to build at least ten links (RD) to reach the 1st page and at least 100 links (RD) to compete with the top three ranking sites. I am excluding the big directory sites like Yelp.
You now know your local online competition if you are a Fort Worth Dentist.
What's Next?
Now that you know a bit about SEO tool metrics, in the next post, we will dive into the backlink and anchor strategy. This will help you understand how and why websites are ranking.