Let's continue our discussion on local competitive SEO research and analysis while looking into backlinks and anchor text for the local Fort Worth dental niche.
In the last post, we looked at the SERPs and with the help of some SEO tools analyzed why sites were ranking.
The conclusion was backlinks.
As I have mentioned, hundreds of times now, backlinks is just one of the ranking factors, but it is a strong one! In other words, it is hard to rank in the top three positions of Google for competitive keywords without backlinks to your website.
What is a Backlink?
I have already gone over this in the Local Off-Site SEO Guide post. Check it out for more details.
In short, it is just a domain that is linking to your website.
Let's jump into the Fort Worth Dentist niche, and I will give you some examples.
Here is a screenshot of my local SERPs for the search phrase "dentist fort worth":

I am going to skip over Yelp since it is a directory and look at fortworthdental.com.
You can see from the screenshot above that the domain has 433 Backlinks and 104 Referring Domains.
When I put the domain in the ahrefs.com Site Explorer tool today, I get the following stats:

Note: You probably notice the discrepancy in the data. This might be due to cached stats in the SerpWorkx tool. It doesn't really matter either way.
As you can see in the screenshot above, ahrefs.com is now reporting 658 Backlinks and 125 Referring Domains for fortworthdental.com.
Referring Domains
When people talk about backlinks, they are really just talking about referring domains.
Let me explain.
In the screenshot above, fortworthdental.com has 125 unique websites linking to their domain. Of those 125 websites, they have 658 backlinks. This means some of those 125 websites are linking to fortworthdental.com more than once.
How does this happen?
Pretty easily. If you are familiar with websites, you know that websites normally have global sidebars, headers, footers, and other elements. Meaning these elements are displayed on every page of the website.
For example, if a website places a link to your domain in their global footer and has a 10-page website, you would get ten backlinks from 1 referring domain.
Got it?
There is a lot of discussion on the web whether a sitewide link is "natural" in the eyes of Google and if it okay to build sitewide links.
In my opinion, I don't care… The goal is to make your backlink profile look as natural as possible. Sitewide links should be in your bag of tricks, but not the only type of links you build.
Let's get back on topic.
The key here is to get as many referring domains pointing to your website as possible.  Again, focus on increasing referring domains.
Now that you know about the importance of Referring Domains, you might be looking at fortworthtexasdentist.com sitting in the 3rd position and scratching your head.

Fortworthtexasdentist.com has almost four times the number of Referring Domains, a ton more backlinks, and a higher Domain Rating (DR)…
What gives?
Well, like I keep mentioning, there are hundreds of ranking factors, but one thing you should take a look at is the URL Rating (UR) of each domain.
Notice the UR for fortworthdental.com is higher. This tells me that the backlink profile for fortworthdental.com is slightly better than fortworthtexasdentist.com.
So even though fortworthtexasdentist.com has four times the number of referring domains, fortworthdental.com has higher quality(better) referring domains.
Mind blown!
Again, you can't assume the backlink profile is the only reason fortworthdental.com is sitting in the top position. You need to analyze ALL on-site SEO factors as well. One factor that sticks out by just looking at the screenshot of the SERP above is the meta title for each domain.
Notice the title tag for fortworthdental.com has a variation of the search term "dentist fort worth" at the beginning of the title tag, whereas fortworthtexasdentist.com has the doctor name at the beginning. Just this slight difference could increase the CTR (click-through rate) of fortworthdental.com and help them stay in that top position.
But, if I were a Fort Worth Dentist trying to do SEO for my website, one of my first steps would be to look at the backlink profile of fortworthdental.com and all my competitors.
When I say backlink profile, I am really talking about the referring domains. I want to determine what referring domains fortworthdental.com has that my website doesn't and try to get the same backlinks pointing to my domains. Once I have as many of their backlinks as possible, I continue and keep building strong, relevant backlinks to my website to stay ahead of the competition.
SEO is never finished in a competitive niche.
So, how do I see the backlinks and referring domains of a website?
Ahrefs.com for the win!
Ahrefs.com has a report that shows all the backlinks and referring domains of a website.
Protip: Websites can block the ahrefbot from crawling their website. You see this with PBN websites and in super competitive niches online. This means sometimes you are not getting the complete backlink profile picture of a domain. More research and other tools are needed in this case.
Let's look at the referring domains for fortworthdental.com: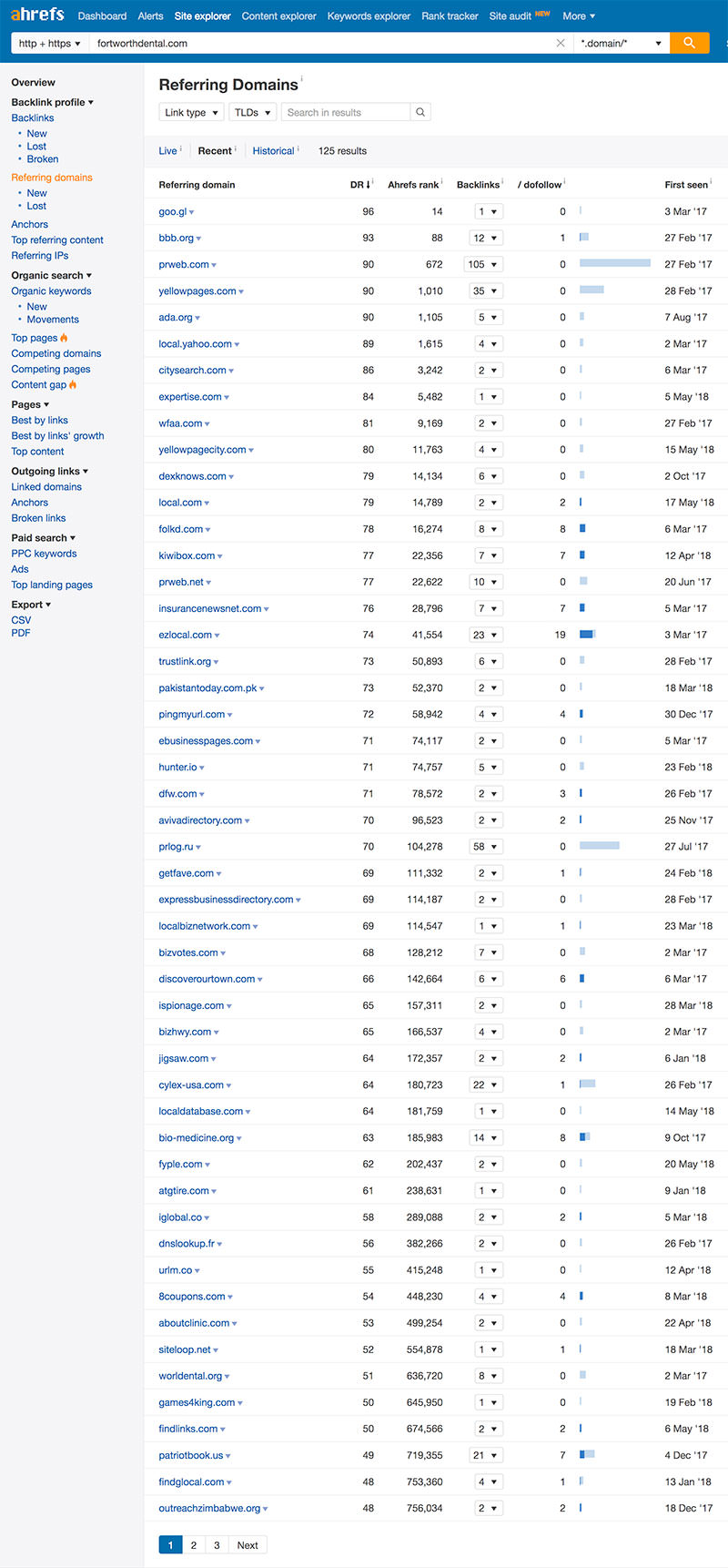 This is just the first page sorted by DR.
I can also click the little down arrow in the backlink column and see the anchor text and different backlinks per website.
For example, fortworthdental.com has two backlinks from the domain local.com. The first backlink uses the anchor text "Visit Website" and it links to their homepage. The second backlink uses the anchor text "$99 Cleaning, Exam and X-Rays" and links to an internal page on fortworthdental.com.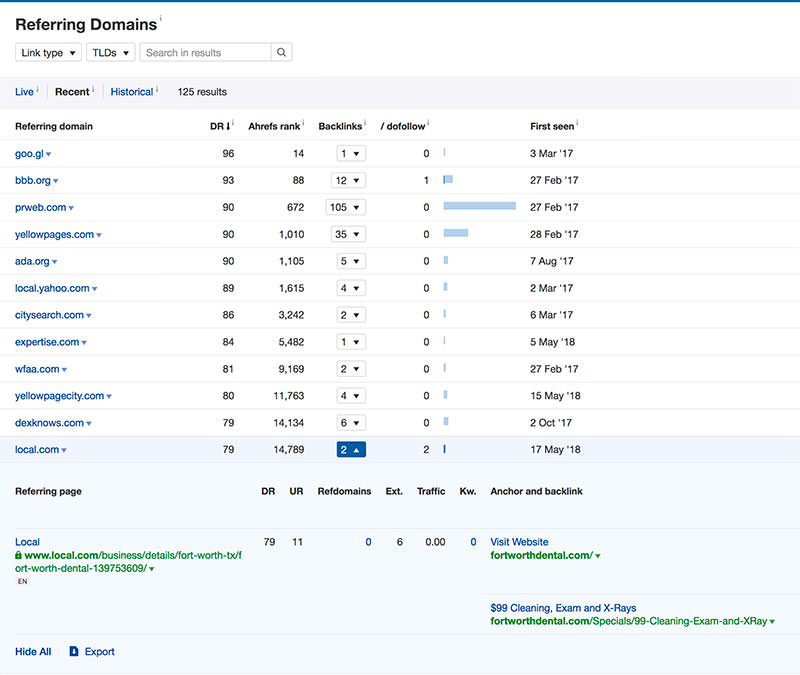 The referring domains of your competitors and the websites ranking above your domain are gold!
Use this data to cherry-pick their best backlinks and build them for your website.
Anchor Text
Now that you know about referring domains let's talk about anchor text.
If you aren't familiar with anchor text, check out the Local Off-Site SEO Guide post. In the example above for forfortworthdental.com, the anchor for one backlink is "Visit Website" and the other is "$99 Cleaning, Exam and X-Rays."
The anchor text is an important part of the backlink profile.
Back in the day, if you wanted to rank for a certain keyword phrase like "Fort Worth Dentist" all you would have to do is get backlinks with the anchor text "Fort Worth Dentist." You would just hammer the page with backlinks that had the exact keyword phrase you wanted to rank for in Google.
Google put an end to that! They started dropping sites in the rankings and notified website owners of over-optimization.
Today, it's all about looking natural. Not just with backlinks and anchor text, but everything SEO related.
You will still see some niches that do well with exact match anchor text backlinks, but it is pretty rare.
To keep your website rankings safe from future Google updates you want your backlink profile to look natural.
Looking natural seems to be a recurring theme in SEO…
How do you make your backlink profile look natural?
Well, you could wait around and get natural backlinks. Meaning, don't manually build any backlinks and hope that someone is kind enough to one day link to your website. That would be as natural as it gets!
Good luck with that. In a competitive niche, you will never see that top spots in the SERPs.
If you choose to build backlinks, which you should, make sure you have a diverse anchor text strategy.
What is a diverse anchor text strategy?
It's unique anchors for your backlinks. That's it.
If you decide to build backlinks and have other webmasters links to your website, make sure you are switching up your anchor text and linking to various pages on your website.
In other words, if you want to rank for "Fort Worth Dentist" don't build hundreds of links to your homepage with the anchor text "dentist Fort Worth."
That doesn't look very natural.
Instead, use:
branded anchors
URL anchors
topic anchors
keyword anchors
random anchors
Below are some examples of each type of anchor. For this example let's assume I have the domain localdentist.com, and I want to rank for "Fort Worth Dentist" and related keywords.
Branded Anchors
Local Dentist
any other brands, trademarks I am known for
URL Anchors
https://localdentist.com
www.localdentist.com
localdentist.com/blog-post
localdentist.com/teeth-cleaning
Topic Anchors
teeth cleaning
fix cavity
teeth whitening
Keyword Anchors
Fort Worth Dentist
dentist in Fort Worth
best dentist in Fort Worth
local Fort Worth dentist
Random Anchors
click here
visit website
read more
Like I mentioned above, the type and number of anchors you use vary in each niche.  Another thing I want to mention is when I am building anything other than Branded and URL anchors; I try to be 100% unique. In other words, I try and never use the same anchor text more than once.
Just think about it.
If you are getting natural backlinks, how often will different webmasters link to your website with the same anchor text?
Not very often! Unless, of course, they are branded or URL anchors.
So do your best and switching things up. Let Google determine what keywords you are trying to rank for based on your on-site SEO optimization.
How do you determine an anchor text strategy based on your niche?
Ahrefs.com!
They have an Anchors report that shows all the different anchor text for each backlink.
Let's stay in the Fort Worth dental niche and take a look at the anchor text of a couple sites.
Here is a screenshot of the number one ranked site(fortworthdental.com) for the search phrase "dentist fort worth":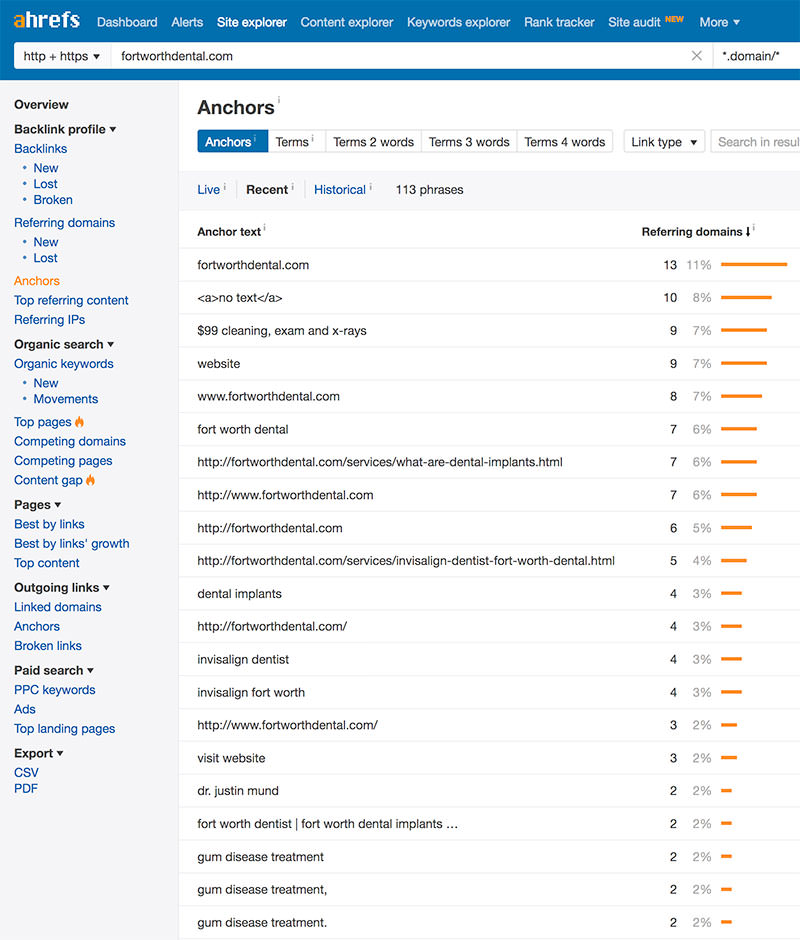 Notice their top anchor is 13 URL anchors. Then going down the list, you can see they have various anchors and several that repeat.
The owner of this website lucked out with the domain too.
FortWorthDental.com is what we call an exact match domain (EMD). Meaning the primary keywords are also in the domain name.
Google says EMDs don't get any special treatment in ranking, but it is apparent that is a lie…
Another good thing about EMD domains is your branded anchors and URL anchors have your target keywords. Sometimes, depending on the niche, you have to be careful of anchor text over optimization. For local businesses with exact match domains, I have yet to see anchor text over-optimization penalties though.
Let's moving on.
Look at the anchors for fortworthtexasdentist.com below: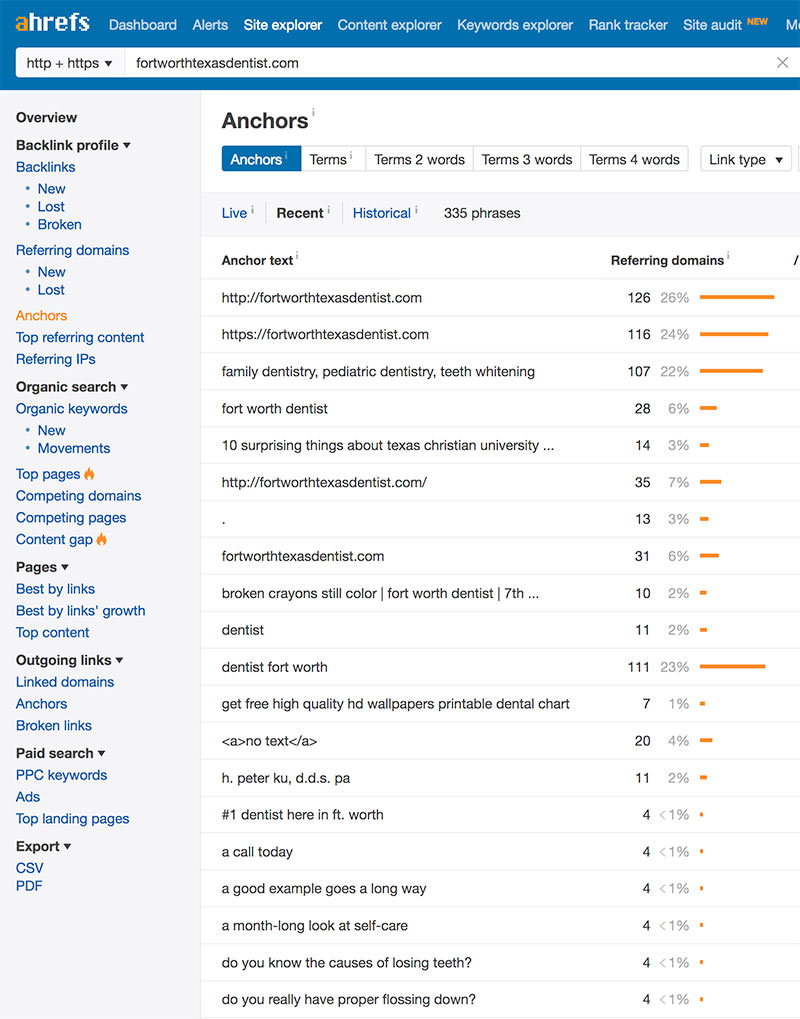 Again, you can see their top anchor is a URL anchor and so on.
You hopefully get the point. The idea is to see what type of anchors Google is looking for in the niche you are trying to rank.
For the Fort Worth Dental niche, it looks like URL and Topic anchors do well for the top ranking websites.
Continuing my anchor text research in this niche, I would look at every website in the top ten results for each keyword I wanted to rank for in Google. I might even check surrounding cities like Dallas and Arlington to see what anchor text strategy is working.
I take notes and put this data in an Excel spreadsheet to determine that exact anchor text ratio is best for the niche.
Once I know the best anchor text ratio for the niche, I start building backlinks to my website with this knowledge in mind!
What's Next?
I think it is time to start doing some local SEO site audits. This will cover everything we have discussed so far and really get into the weeds of SEO optimization.