If you are looking to drive new customers to your business TODAY, I would recommend paid search, hands down.
What is Paid Search – PPC Marketing?
When I refer to paid search, I am mostly talking about Google AdWords. You will also see this called PPC(price per click) marketing.
These are the ads you see at the top of the search results when searching Google.
For example, if I search for "dallas dentist" I see the following ads at the top of the search results.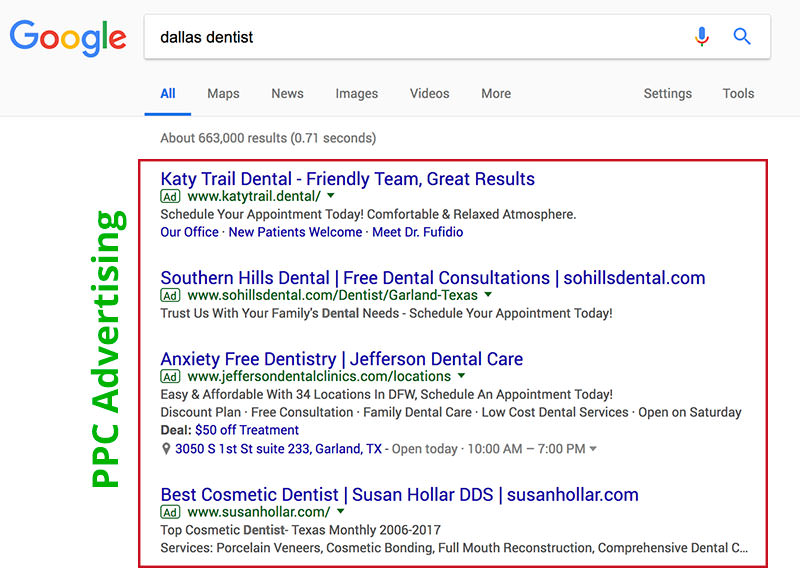 Why Paid Search?
Why do I recommend running PPC ads to drive new customers today? Because the people doing the searches that relate to your product/service are showing an interest.
These people are actively looking and researching the terms they type into Google.
This is a huge opportunity for any business.
You can literally create an Adwords account, set up a campaign, and start getting targeted traffic to your website today.
If you are new to PPC advertising, I wouldn't recommend just jumping in without further research. You can burn through your budget pretty quickly if your campaigns are not set up correctly.
How does PPC Advertising Work?
You pretty much pick the keywords(search terms) you want to show up for and create ads for people to click on that hopefully will then be directed to your website.
So, in the example above for the search phrase "dallas dentist" the four dentists you see in the screenshot are bidding for the keyword phrase "dallas dentist."
Anytime someone searches for "dallas dentist" these four dentists (and probably many more dentists) are saying "Hey Google, please list my ad so people can find my business."
That is the super simple explanation of how paid search works.
Like everything else on the web, some people just focus and manage companies paid search campaigns. If you have ever seen the dashboard of an active Adwords campaign, you understand why.
There are TONS of options, settings, data, and terminology you need to understand to run a campaign properly. It can get overwhelming very fast.
Even if you are the type that does everything for your business(hope you aren't for scaling purposes), I recommend hiring someone or outsourcing the management of your PPC campaign.
Isn't PPC Advertising Expensive?
It can be if you do not know what you are doing! But once your campaign is optimized, it is money in, MORE money out.
The great thing about PPC campaigns is they can always get better.
You can always test new ads to increase your CTR (clickthrough-rate)
You can always A/B landing pages to increase conversion rates
You can always adjust your bids
The goal is a continuous improvement to increase conversion rates and decrease PPC costs. If you like analyzing data, managing a PPC campaign can be really fun!
PPC Advertising or Search Engine Optimization?
Both!
If your website is currently organically ranking on the first page of the search results, a PPC campaign is going to give you more real estate on the page!
Your goal is to get people to your website and convert them into paying customers. You want to dominate the first page for keywords that relate to your business to drive the most traffic to your website as possible.
Period.
You will find that some people like clicking on the paid ads and some people skip over them and click on the organic listings. Your goal should be to have your website listed in both areas to capture both groups.
If you have been doing research on which is better, PPC or SEO, you are going to get mixed results. This is mostly because you have web professionals that are one trick ponies and are afraid to learn a new skill set.
You will hear/read things like:
SEO is dead
PPC advertising is a waste of money
SEO takes to long to rank
Nobody clicks on the PPC ads
My reply: "Bless your heart."
Again, the goal is to drive traffic to your website and convert them into new customers.
If my target customer is on Google searching for my service/product, you can bet I am working to dominate the organic listings, and I am in the best-paid ad position. If I find that a different traffic source has a higher conversion rate and sends my website more customers, I am there with banners, sponsorships, guest posts, and whatever else I can get my hands on.
But it's Expensive to do both!
You're right.
If you are a new business, you probably don't have the budget to run a PPC and SEO campaign.
This blog is about local growth hacking and as of right now, PPC is one of the best, if not the, best way to drive new online customers to your business quickly.
If you have a limited budget, I would recommend running a PPC campaign to grow your customer base. As your budget increases, start that SEO campaign.
This is all assuming you are hiring an individual or agency to run your PPC/SEO campaigns. No one said you couldn't bootstrap your PPC/SEO campaign yourself.
PPC + SEO = LOVE
One benefit of running a PPC campaign with proper tracking is you start to understand what keywords convert into customers.
This is valuable knowledge.
Once you understand your highest converting PPC keywords, you can start trying to rank organically for the same keywords. You might be surprised what keywords work the best for your business.
Another benefit is keyword search data.
In your PPC campaign, you could run some broad match keywords with a low CPC and uncover all kinds of new keywords. Again, this is data that you could use for your SEO campaign.
With this data you might:
create website content to start ranking for long tail keywords
build new landing pages
create new products/services
edit headlines/copy to better fit your audience
The sky (and your budget) is the limit!
Proper Tracking, Conversion Optimization, and Testing
None of this is possible without proper tracking, conversion optimization, and testing.
I see it all the time.
A business is running PPC ads and driving the traffic to their homepage. Their homepage is just a broad overview of their business will no CTA (call to action), and they are complaining that they are not getting any new customers.
These are usually the people that say PPC advertising doesn't work.
Do some Google searches around some of the most competitive keywords online(insurance, mortgage, legal), click on their ads, and review their PPC landing pages.
Were you directed to the companies homepage?
No.
Some things you might notice on these landing pages:
One clear CTA – phone number, contact form
little or no navigation
minimal, clean design
social proof and reviews
trust badges
service/product benefits
These landing pages have one goal – converting the visitor into a potential customer!
With PPC, and really with anything online, you need tracking.
Tracking helps you:
understand what is and isn't working
determine your highest performing keywords
determine your best pages
determine your best traffic source
and much more!
Getting proper tracking implemented on your website should be your first step before running any campaign.
I covered call tracking a bit in my last post, but I hope at this point you understand the importance of tracking.
Once tracking is in place, you can start testing campaign and website changes to increase your conversion rate.
You should never be done making changes!
The more you test, the more knowledge you have to make better decisions.
If you can increase your conversion rate every week/month, think about your profit margins!
Your digital marketing campaigns turn into a money-making machine.
What's Next?
I am slowly moving away from the reason I started this post, and that was to tell you about my friend paid search.
When a business comes to me looking for new customers fast, I start running a PPC campaign.
The End.
See you in the next one.