I want to discuss how a local business owner can start driving leads to their business today and strategize for future growth.
In this post we are going to cover:
Paid Search (PPC)
Social Media
Search Engine Optimization
Purchasing and acquiring traffic from these three sources can drive new customers to your business today!
Before you get started, if you have any questions while going through this post, don't hesitate to send me a message.
If you feel your website is not set up correctly or you would like some guidance, request an audit of your web presence.
Digital Marketing in the Dallas-Fort Worth Metroplex
What you are about to read are proven strategies and tactics that I am currently using to grow local DFW businesses. This isn't regurgitated content that I am finding from other websites and reposting on Local Growth Hackers.
The following strategies are the actual ways I am helping businesses grow their customers. These strategies can be used for any business, no matter the location.
A few examples.
I am sure you are aware that screenshots can be altered, but I am hoping you will take my word for it.
Below are screenshots of some local DFW businesses Google Analytics and Google Ads:
Business 1: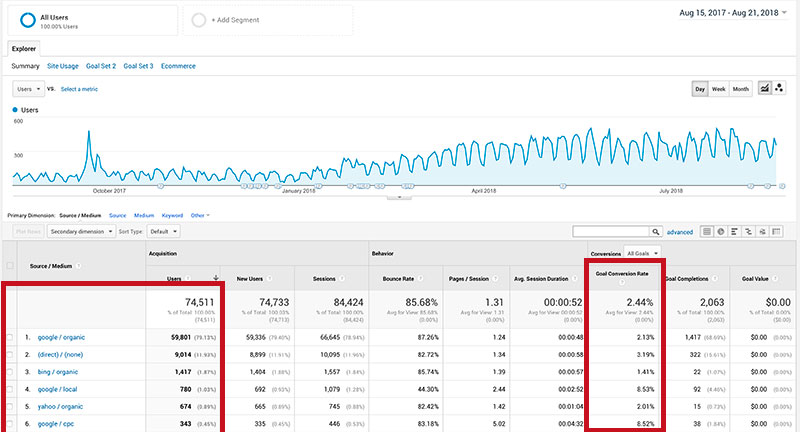 I would like to note, depending on the industry, the average conversion rate is less than 3% for websites.
As you can see in the screenshot for the local business above, the conversion rate for their Paid Search ads is sitting at 8.52% and that is for the past year! All traffic sources combined, the conversion rate is sitting at 2.44%, which is still very good considering 70% of their traffic is organic.
Another win in itself.
Organic visitors that land on informational and various other pages on your website are not always looking for a product or service right away. Only a portion of the organic keywords that a website ranks for in the search engine result pages (SERPs) will have purchase or buying intent.
For example, a local dentist might have a blog post on "How candy leads to cavities". Someone that searches and lands on this page is probably not looking for a dentist right now.  They might read the article and leave the website. Hopefully, this visitor remembers this article and contacts the dentist in the near future though!
For this reason, you would expect the lower conversion rate for websites targeting long-tail keywords and getting a high volume of organic traffic.
Business 2: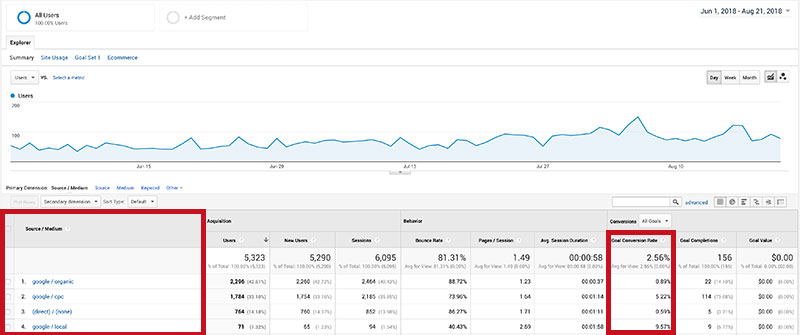 Above is a screenshot of a new business that opened at the first of the year (Januaray 2018).
The conversion rate for Paid Search is currently sitting at 5.22%. Awesome start!
Again, the lower conversion rate for organic traffic should be expected in this case as most of the organic traffic is going to informational (blog) posts that are targeting long-tail keywords.
The google/local that you see at 9.57% is tracking we have in place from their Google My Business page. This is traffic is from the Google Map pack. If you are unfamiliar with the Map Pack, read my post on How Do I Get My Website to the Top of Google.
Business 3: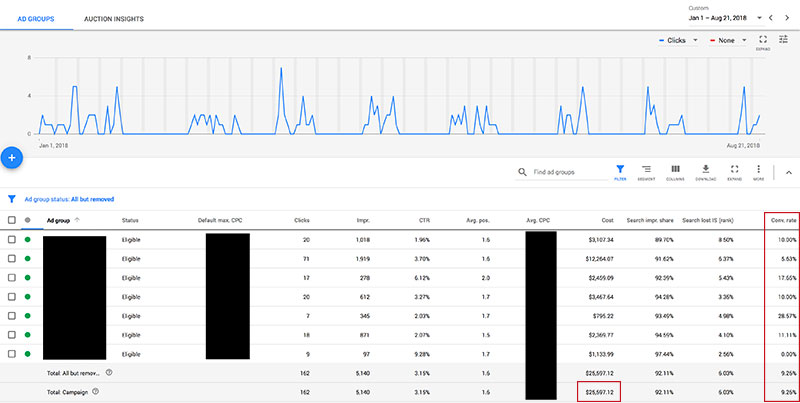 Above is a screenshot from a Google Ads campaign. Notice the conversion rates (10%, 5.63%, 17%, 10%, 25%, etc.) for each campaign since January 2018 until August 2018.
I will admit, I am pretty proud of the stats above. My work is never done though, I am always tweaking and testing ways to increase the traffic, conversion rate, and revenues for the business.
As a business owner, your website stats and conversion rates are important. With the right implementation and strategy, you can scale a business as big as you want!
On that note…
Proper Tracking is Essential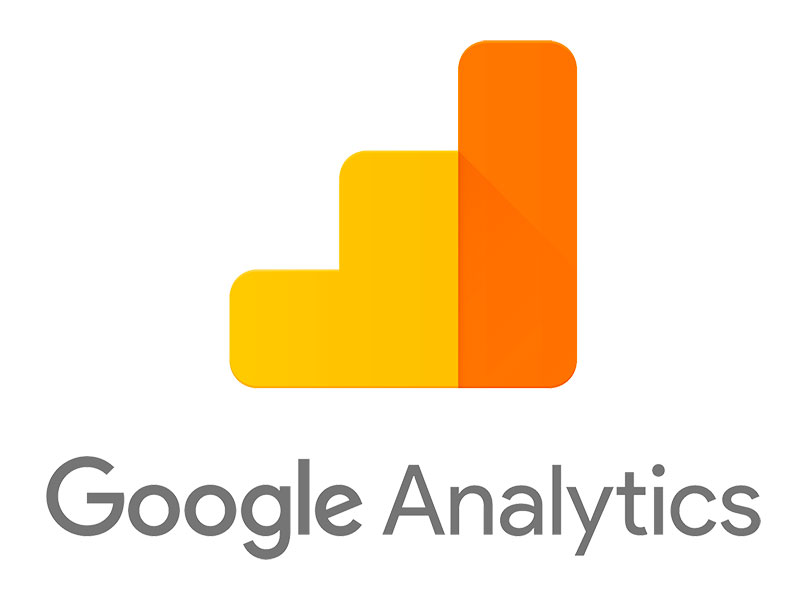 Before you send any traffic to your website or do any online marketing you need to make sure tracking is in place on your website. I go into tracking in further detail in my post on how to use paid search to get customers today.
In short, you need analytics and conversion tracking on your website.
Google Analytics is free. Create an account, grab the tracking code, and place it on every page on your website.
Once you have analytics installed on your website, you want to create goals. If you are selling products online, a goal would be a successful purchase. If you are a service business, a goal would be a contact/quote/consultation form submission or phone call.
Setting up goals is very important and there are thousands of guides that cover the subject. Without this information, you will not know what traffic source or marketing strategy is working and driving new customers to your business.
Make sure you have goals in place for your conversion tracking before moving forward.
This is also a good time to set up and create an audience for future remarketing campaigns in Google Analytics.  I will touch on the importance of remarketing later in this post.
Social Tracking
Depending on the business, I also like to install the tracking scripts from the various social networks. These include Facebook, Twitter, LinkedIn, etc.
Make sure you have the proper conversion tracking from your website for the social network as well.
Without conversion tracking, you are just blindly spending money if you are marketing online. You will also need this data to make current and future business decisions.
I also like to use social networks for retargeting and targeting lookalike audiences, also covered in this post.
For example, a person views one of your service or product pages on your website. You can now follow them around the web and advertise your product or service to them again.
I am sure you have seen it yourself. You look at a product on Amazon and now every other website you visit you keep seeing the product you were looking at.
It is called remarketing/retargeting advertising.
Not only does it work and convert well, but the CPC (cost per click) is normally cheaper.
Now that you know the importance of conversion tracking, let's talk about how to drive potential new customers(traffic) to your website.
Get Leads Today with Paid Search
I am going to assume you have a website and it is set up properly to convert your traffic/visitors into potential leads. Please don't expect to just send traffic to your website and magically start getting phone calls and form submissions.
Website conversion optimization is a topic within itself and should be taken very seriously. As I mention all the time, your website is never finished!
You should always be testing ways to increase your conversion rate.
Let's get back to how you can drive leads to your business today.
What is Paid Search?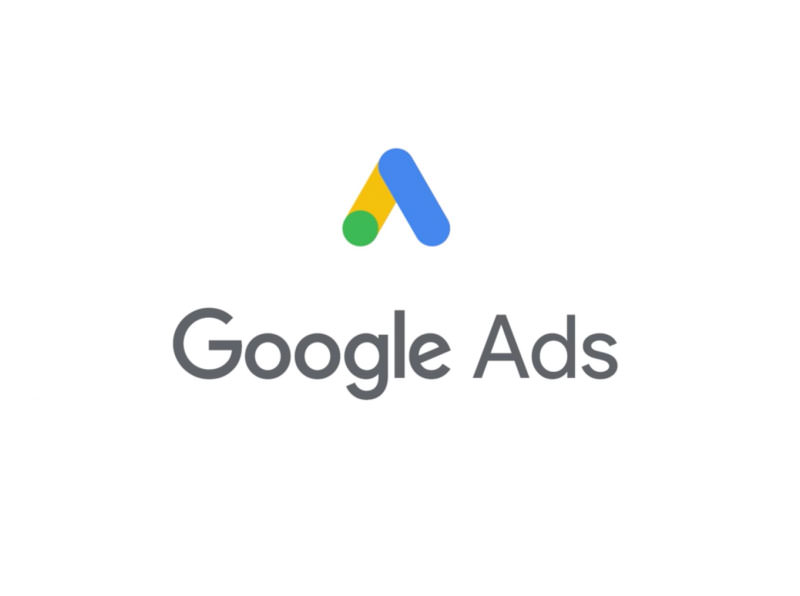 I am talking about Google Ads, formally Google Adwords. This is also called PPC(pay per click) marketing.
For some local industries paid social ads like Facebook Marketing is also a good option, but I would still pick Google Ads first.
Why?
You are putting your business in front of people that are actively searching and looking for your services or product right on Google!
With Facebook Ads, you are doing interruption marketing and hoping people want your product/service when they see your ad as they scroll through their feed.
Setting up a Google Ads campaign can be pretty scary for those who are new to online advertising. There are all kinds of new terms and acronyms that you need to understand. I would recommend doing your research and understanding the basics before spending any money.
In short, the goal of a paid search campaign is to display your products or services anytime someone searches for keywords that are relevant to your business on Google.
For example, let's say you are a local plumber. Your business would probably want to show up in the Google search results when people search locally for:
leaky pipe repair
busted pipes
need a plumber now
24/7 plumber
plumber in fort worth
plumber near me
Hopefully, you get the idea.
If people are searching for these terms or keywords in Google, they are more than likely looking for a plumber right now!
These are the people you want to capture and convert into customers.
Set Up Paid Search For Your Local Business
If you have ever been inside an active paid search campaign, you know how many options and settings there are.
It can get overwhelming very quickly!
There are courses and books that cover this subject in-depth, so it doesn't make sense for this post to get super granular.
But, I will cover the basics to get you started off in the right direction.
Here are some rules and ideas you should consider when setting up a paid search campaign for your local business.
Search Campaign
Start with a Search Campaign, not a Display Campaign. A search campaign will display your text ads in the Google search results. A display campaign will display your banner ads on the Google Display Network.
After seeing positive results with your search campaign, you should then venture into testing display campaigns for your business.
Location Targeting
Make sure you are targeting a radius or area that your business serves.
For example, if you are a Dentist in Dallas, do you think a person in Weatherford, TX (1 hour and 30 mins away) is going to drive to your office?  Probably not… Unless you have a really good offer.
Some businesses know exactly where their target audiences live. If this applies to you, you can set up campaigns and target by zip code.
Even if you are a business that ships products or travels for your services, you need to define the location(s) you want to target.
Campaign Structure
You want to break up your services or products in separate campaigns and ad groups.
Once I find high converting keywords, I will break those out into their own ad groups. These are called SKAGs (single keyword ad groups). Google it.
The idea here is to structure and group your campaigns in tight groups.
Back to the Dentist example, you wouldn't want an ad group about Teeth Whitening in the same ad group as Denture Repair.
There are all kinds of strategies to set up your campaign and ad groups. Personally, I like to get super granular.
With tight, specific campaigns and ad groups you can get the most out of your text ads.
Text Ads & Extensions
You should have at least three ads in every ad group that are set to continuously rotate. Google automatically sets the settings to show the winning ad over and over, so make sure you change the setting to rotate your ads indefinitely.
Why?
Because you want to continually A/B test your text ads! The goal is to continue to add new text ads and beat your previous winner. Making your ads better and better while increasing your conversion rate and reducing your costs.
A/B testing is very important and can explode your business growth and ROI.
You also want to add extensions to your ads. These add extra elements to your text ads like your phone number, site links, call-outs, your business address, etc.
Extensions will help your paid search performance overall. Use them.
Keywords
You need to understand the different matching types for keywords within Google Ads. This is very important.
These include:
broad match
broad match modifier
phrase match
exact match
negative match
I have reviewed Google Ad campaigns of business owners that claim PPC marketing doesn't work for their business and have seen some crazy things!
An example of this would be using broad match keywords. The business owner was using the broad match for the keyword Dentist.
Because of this, he was paying for keywords like:
how to be a dentist
how much is dental school
funny dentist jokes
Do you think any of those searches would be good potential customers? Negative.
This is why it is important to understand keyword match types and what search terms are actually serving your text ads.
Tip: Once you start seeing that your ads are getting clicked, review the "Search Term" report under the Keywords tab.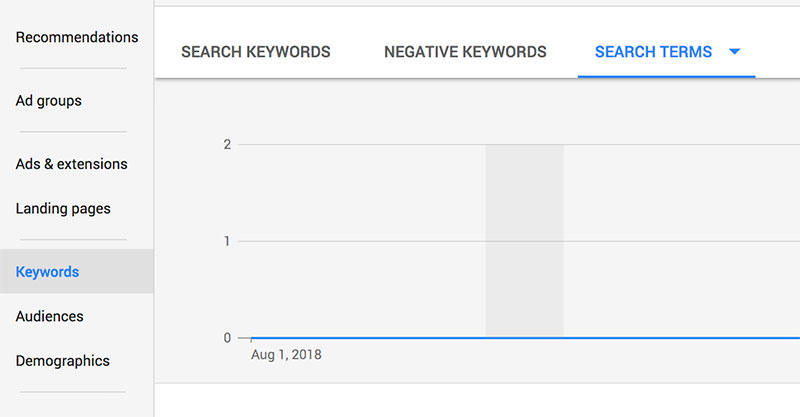 This report is your friend. Look at it daily/weekly.
Keyword Bidding
The price you pay per click is based on a number of criteria in Google Ads. You need to understand CTR(click-through rate) and Quality Score. Google it.
In short, the performance of your ads will determine what you are paying and your placement in the SERPs. Master your ad relevancy, landing page, and CTR to see the best results.
As you start getting data, you can play with your CPC bids.
Note: You might find that sitting in the #1 position is not the best spot to be for your conversion rate and ROI. Look at the data!
Landing Pages
Don't send all the traffic to your homepage! This is a mistake.
Back to the Dentist example. If you are running a campaign about Teeth Whitening, send the traffic to your page about teeth whitening.
Better yet, build custom landing pages!
If you really want to see results, start continuously A/B testing your landing pages. There are tools that will split your traffic and send the visitors to two different landing pages.
For example, you get 500 visitors. Half of the visitors(250) will be sent to landing page A, the other half(250) will be sent to landing page B.
With proper tracking, you can then determine which landing page has the highest conversion rate and should be considered the winner.
Take the winner and make a different variation. Keep making variations and changes to try and beat your best landing page with different A/B tests!
Over time, your conversion rate climbs. Talk about ROI.
Always be testing!
Why should you build custom landing pages?
Staying with the Dentist and teeth whitening example, the page about teeth whitening on their website is probably a broad page that discusses teeth whitening in general. These pages are normally built with informative content with no call-to-action. This type of page is great for SEO, but sometimes a page with a lot of content isn't what a potential customer is looking for and doesn't drive conversions.
On the other hand, you could test and build a landing page with a teeth whitening offer and have content that pushes and persuades the visitor to call or sign-up today.  You might find that this custom landing page has higher conversion and more customers sign-ups.
You never know, and that is why A/B testing is so important.
Other Settings & Advice
What we have covered so far is just giving you guidance and best practices to get you going with paid search. I highly recommend doing more research before spending any amount of money in Google Ads.
There are a ton of other settings and options that you can tweak and control. It can easily be a full-time job.
One last thing I want to mention is Google Reps.
Once you start spending money on Google Ads, you will start getting emails and calls from Google Ads Reps. You will find that they are very friendly and can be very helpful. You will also find that some of their suggestions increase your budget and go against things you might have learned.
Keep in mind, Google makes a majority of its revenue from their paid search network. Of course, they want you to be successful, but they also want you to spend more in their platform.
I will leave it at that.
Social Media Campaigns for Local Businesses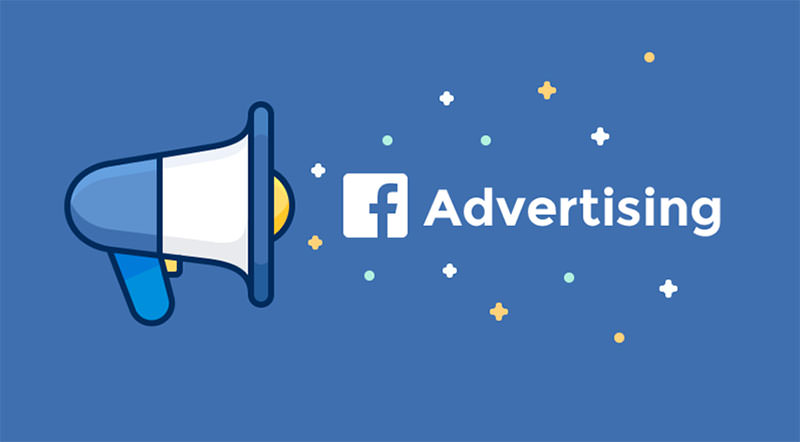 In this section, I am mostly going to be discussing Facebook Advertising. LinkedIn Ads is another good option especially for B2B, but my testing shows that it is more expensive.
I am going to touch on the following topics:
remarketing
custom audiences
lookalike audiences
Remarketing on Facebook
Depending on the industry and where the person is in the buying cycle, retargeting/remarketing on Facebook can really produce some great results.
For example, a person visits your website and doesn't make a purchase, call your business, or fill out your "quote/consultation" form. You can set up a campaign in Facebook Ads Manager to display ads to this user while they are on Facebook to hopefully get them to come back and become a customer.
As I mentioned earlier in this article, advertising on Facebook and any other social network for that matter, is considered interruption marketing. Because of this, you really need a good offer or something that really grabs the user's attention to get the best results.
Think about it, you are scrolling through Facebook looking at pictures and status updates from your friends and you see an ad for a product or service. In order for you to click on that ad, you either
Really need the product or service, or
Realize it is an amazing offer
Otherwise, you are just going to skip the ad and keep scrolling through Facebook.
My point is that you shouldn't expect to just create a campaign and convert cold traffic on Facebook. This is why remarketing on Facebook can work well. If you are remarketing correctly, the person you are advertising to should be both familiar and interested with your product or service.
Custom Audiences on Facebook
You can get pretty wild with your targeting and custom audiences on Facebook. Let's go over some popular ways to use custom audiences.
Retargeting
For this to work, you need to have the Facebook pixel installed on your website. If you have the Facebook pixel with conversion tracking setup, even better!
To set this up, you would go into Facebook Ads Manager and create a new audience based on your website traffic. You would then pick the page(s) on your website the user visited in the past X amount of days.
For example, a Dentist could create an audience that targets people who visited his teeth whitening page in the last 30 days that didn't convert into a new customer. With this audience, the Dentist could create a campaign that displays a special offer (Limited Time! $20 Teeth Whitening Service. Schedule Now) only to that custom audience.
See how powerful this can be?
Like with Google Ads, you should create and test different ad copy, creative, and formats. You might find video ads drive the most leads.
For certain industries, it might be a little harder to convert people into paying customers. In this case, it is beneficial to set up funnels.  To discuss funnels let's move on to the next topic.
Cold Audience/Traffic
Facebook advertising allows you to get very specific with targeting when setting up your audience.
For example, you can target males between the age of 20-35, who are homeowners, that live in Fort Worth, and show interest in Fitness and Wellness.
That is just one example, but you can see how specific you can get.
Another example, you can target people who are recently engaged! If you or a loved one is in the wedding services industry this can be a game changer!
Start targeting and getting these newly engaged people into your funnel.
What is a Funnel?
I have mentioned funnels a couple times now and haven't explained how they are used. A funnel is a great way to move people through the buying process.
For example, let's assume you are a wedding photographer targeting recently engaged people on Facebook.
Depending on when the person got engaged, he/she might not be ready to sign up a wedding photographer right now. So blasting this newly engaged custom audience with your wedding photographer ads probably won't convert very well.
Instead, you want to create content, videos, and/or an email sequence to get this user into your funnel.
Staying with the wedding photographer example.
Maybe your first ad is a link to a broad piece of content that is a "Checklist for Planning the Perfect Wedding" to get recently engaged audience interested.
This is the start of your funnel.
You then create a custom audience that visited your "Checklist for Planning the Perfect Wedding" page that didn't convert and target those people with another video or piece of content.
This is the next step in your funnel.
Keep this going all while figuring out their interest and desires and moving them towards an action (calling you!).
This is just an example and hopefully, your mind is going crazy with ideas.
You might find that hitting them right off the bat with a "photography special" might convert for your business.
In this case, no funnel needed.
But, if you are struggling to convert the Facebook traffic, you might consider setting up and testing a funnel to move this cold traffic to your end goal.
Setting up a funnel might sound like a pain and a lot of work. That's because it is.
But I wouldn't suggest this strategy if it didn't work!
Not only does a funnel work, but it also reduces your ad costs as your audience moves through the steps of your funnel.
As with everything else I have mentioned up until this point, it is all about testing!
Also,
Funnels aren't just for advertising on Facebook. Test and use them whenever possible.
Realize, the last time you signed up for those "Email Updates" from your favorite website or store, you just started down their funnel.
Lookalike Audience on Facebook
A lookalike audience is exactly what it sounds like. An audience that looks like one of your other audiences.
For example, you might have an audience named "Converted Traffic" that has all the people that visited your website and converted(made a purchase or contacted your business).
You can create a lookalike audience based on this "Converted Traffic" and start advertising to them. Facebook will use its vast amount of data that it knows about all of its users and create a similar audience that matches your "Converted Traffic" audience.
Test it out and see how it works for your industry.
That will get you started with some of the ways you can advertise on social networks, specifically Facebook.
Let's move onto one of my favorite ways to drive customers to a business.
Search Engine Optimization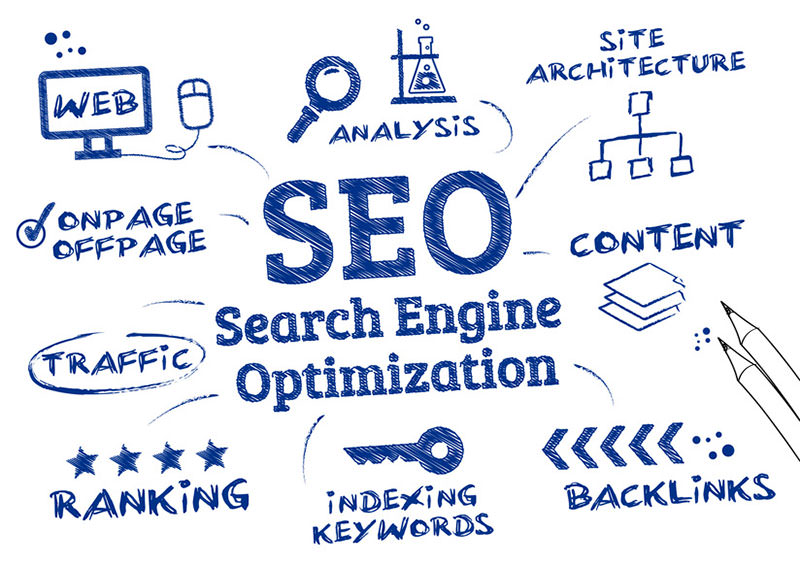 SEO…
Loved by those at the top of the SERPs, hated by those that have been burned by freelancers and agencies.
I can't think of anything better than free traffic to a website that has the potential to turn them into paid customers.
It is great and also a big reason why so many people and agencies offer SEO as a service.
Understand, no one aside from the engineers at Google, know exactly how the algorithms rank websites in the search engine.
Sure, there is a lot of good information and best practices online that should be followed. I have covered several local SEO strategies on this site; please review the articles if you are interested in driving organic traffic to your website.
The problem is a lot of these agencies, freelancers, and "SEO experts" sell false promises.
They promise things like:
rankings in X months
hundreds/thousands of  links to your site per month
guaranteed results
secret strategies
free trials at the lowest possible prices
Business owners sign contracts with hopes of one day being at the top of the rankings.
It is a sad story.
If you have read my posts on SEO, you will know that your SEO work never stops, and it should be considered a long-term strategy. If you have a new website or are just starting to work on your SEO, don't expect to see results overnight or in a short period.
You might be able to rank for some long-tail keywords in a short amount of time (2-6 months), but don't expect to rank in the top 3 positions for competitive keywords in that amount of time. It takes time to build your site and gain trust with the big G(Google).
This is one reason why I started this post with the Paid Search topic. If you want results fast, you need to invest in a properly managed paid search campaign. While you are running your paid campaign and figuring out what pages and keywords convert the best for your products or services, you should be working on your organic rankings.
Putting it all Together
Depending on your industry, budget, and your business goals you might only be able to focus on one of these strategies. You might also find that some strategies work really well for your business and others don't.
If you take anything away from this article, I hope that it is the importance of proper tracking and testing with anything that you market online.
In my experience and working with local businesses in various industries, the right mixture and implementation of the strategies discussed in this post can really drive significant business growth.
If you have any questions about any of the topics, don't hesitate to contact me or reach out to me on your favorite social media platform.